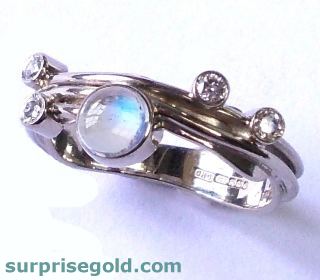 moonstone engagement rings, with diamonds
This 18ct white gold ring, set with a wonderful cabochon moonstone depicting the moon peeping out from below a band of clouds, with sparkly diamonds for stars, is based on the 'Clouds' design band. I can easily set the moonstone more centrally if you'd prefer it that way, for no extra charge or I could set a different stone altogether.

£1,395.00.
A deposit of 50% (£697.00), would get your ring underway.
More moonstone designs [>>]