Back to
Moonstone Engagement Rings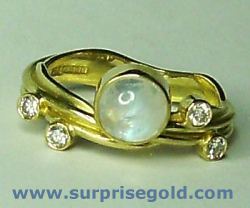 - Clouds 1Y (as Clouds 1, but yellow gold)
£1,422.00 in 18ct white or yellow gold (approx $1,887.00)
Deposit of 50% is £711.00 (approx $943.00).
The moonstone is 5mm, or 6mm in diameter (6mm shown), or you could have a different main stone if you like. If you'd like the main stone more centralised on the ring, there is no extra charge for this.